Give me the chance to convince you!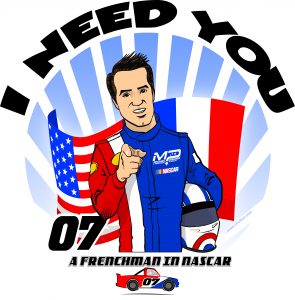 Daytona is one of the most famous track & race in the world of Motorsport & not only !
He took me years to convince the world of racing, that a Frenchman could achieve his dream to be one of the other Nascar's racers… For me it was more than a dream, it was a way of life, and I gave all my energy and passion since I decided to be a professional driver!
The dream became reality in 2008, when I could take my first start on an oval in Salem, Indiana!
Then after many races in the ARCA serie, I could finally take my first start on a Super Speedway in Daytona…
Now, with all my team, we can say that we took 3 start on this fabulous Speedway, and in less of a Month, we are close to achieve our fourth time, and first time in the Nascar XFinity serie, where never a Frenchman took the start !
We still need a few other sponsors to finalize our budget to be on the track on February 16th!!
Nascar is the N1 Motorsport in USA, and the 2nd biggest sport after the NFL (US Football)!
More than 75 M of Fans are following those races, from February to November…
Do you see any potential to bright the name of your company?
I'd be very happy to tell you everything, and how a small kid believed & achieved his dream…
Sincerely,
Michel Disdier